Choose your package:
Doctor Formulated

GMP Certified & FDA Facility

USA Manufactured
60-Days guarantee

100% Vegan

Non GMO
Share it with your friends & family
View full details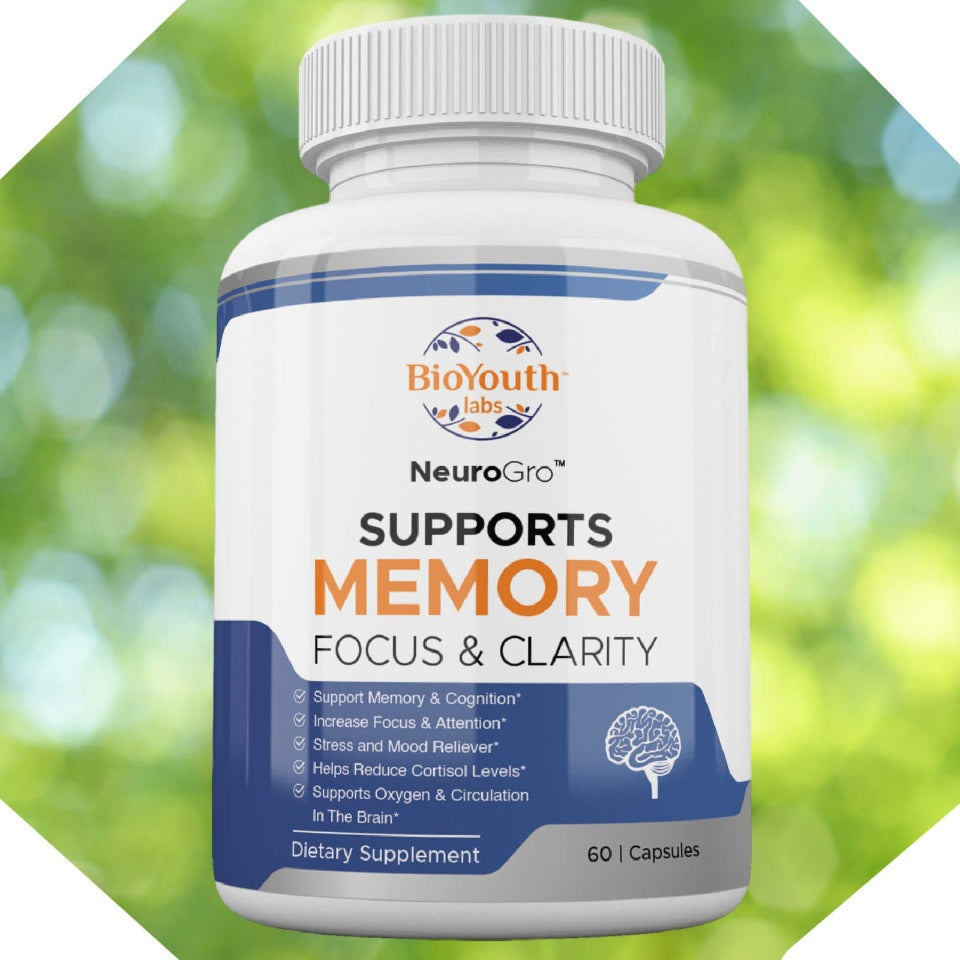 Bacopa Monnieri
This formula benefits from Bacopa Monnieri, a powerful all-natural nootropic repeatedly found to have cognition-boosting properties, with one clinical research study also finding "positive mood effects and reduction in cortisol levels".
Ginkgo biloba
Also containsGinkgo biloba, one of the most popular supplements for focus and attention
Melissa Officinalis
Melissa Officinalis, another nootropic found in this formula, is commonly used by individuals with hyperactive minds for its calming and focus-inducing properties.
Citicoline
Citicoline found in the NeuroGro™ ingredient CDP-choline boosts glutathione levels in the brain, which reduces "free radical" attacks on brain cells from oxidation. That means increased protection and reduced damage to brain cells, and a sharper younger mind even as you age.
60-day, full money-back guarantee
All of BioYouth Labs' formulas come with a60-day, full money-back guarantee. This means you can give this formula a test drive, completely risk-free. If for whatever reason, you're not 100% happy with your results, just send the bottle back within the first 60 days from purchase, and you'll receive a 100% refund, no questions asked.
Frequently asked questions
How does NeuroGro work to improve brain function?

NeuroGro contain ingredients that support brain health and cognitive function. The exact mechanism of action can vary depending on the ingredients used.
Are there any potential side effects associated with NeuroGro?

Since we started selling NeuroGro we never got a response of side effect from a customer but with that said It's crucial to review the product label and consult with a healthcare professional if you have any concerns.
How should I take NeuroGro for the best results?

Take 2 capsuls a day, 1 before brakefest and 1 before dinner with 8 oz of 6-8 oz of water.
Can I take NeuroGro with other medications or supplements?

It's advisable to consult with a healthcare professional before combining NeuroGro with other medications or supplements to avoid potential interactions.
Is NeuroGro suitable for vegetarians or vegans?

Yes, it's 100% vegan and plant based.
Is there any clinical research or scientific evidence supporting the effectiveness of NeuroGro?

All of the ingredients inside of NeuroGro are researched based and prooven to be effective.
Good
Seems to be working well. I find it interesting that when you try to think of something and the answer is not there, in a minute or two the answer will creep into your memory.
Very helpful
Yes I have noticed the clarity in my memory....
NeuroGro 100% Natural Memory Supplement
GREAT PRODUCT
HAVE BETTER CLARITY AND RECALL
Focus and clarity
Definitely would buy again! Helped greatly with focus and concentration at my new job!
Working!
Definitely has been working for me and has improved my memory. I'm about to buy my 3rd bottle!
I hope to be able to make another order. But I have to wait till the 1st wk of the month. I have noticed my memory has been better, and hope to order more soon! Your $10. Off Offer will be greatly appreciated. Thank you
I definitely feel a positive difference in my focus and cognition at work. I feel like I retain information better also. Will continue to use this supplement.
Great
I've definitely noticed a difference with clarity. My mom, 58 also really likes these and can tell a difference.