As seen on:
Pro-State Balance™ Prostate Supplement
Choose your package:
Natural Prostate Supplement
✔️ Promote Healthy Urination & Prostate Health*
✔️ Reduce Frequent Urination*
✔️ Promotes Healthy Bladder Emptying*
✔️ Reduce The Nighttime Urination Urges*
✔️ Support a Stronger Urine Flow*

All of BioYouth Labs formulas come with a 60-day, full money-back guarantee. This means you can give this formula a test drive, completely risk-free. If for whatever reason, you're not 100% happy with your results, just send the bottle back within the first 60 days from purchase, and you'll receive a 100% refund, no questions asked.
Contains Punicalagins with "chemopreventive properties" against the development of prostate cancer.


Also contains Garlic, a common prescription for supporting prostate cancer prevention and recovery.


Tribulus Terrestris, a potent ingredient of this formula, is an ayurvedic herb renowned for centuries for facilitating better prostate health.
The synergy of these ingredients also promotes Healthy Urination, Healthy Bladder Emptying. And reduced Nighttime Urination Urges.
📞 Consult & Order By Phone 
+1 (888) 682-0735 - our team will love to help!
Available Mon-Fri 9am-6pm EST
Share
View full details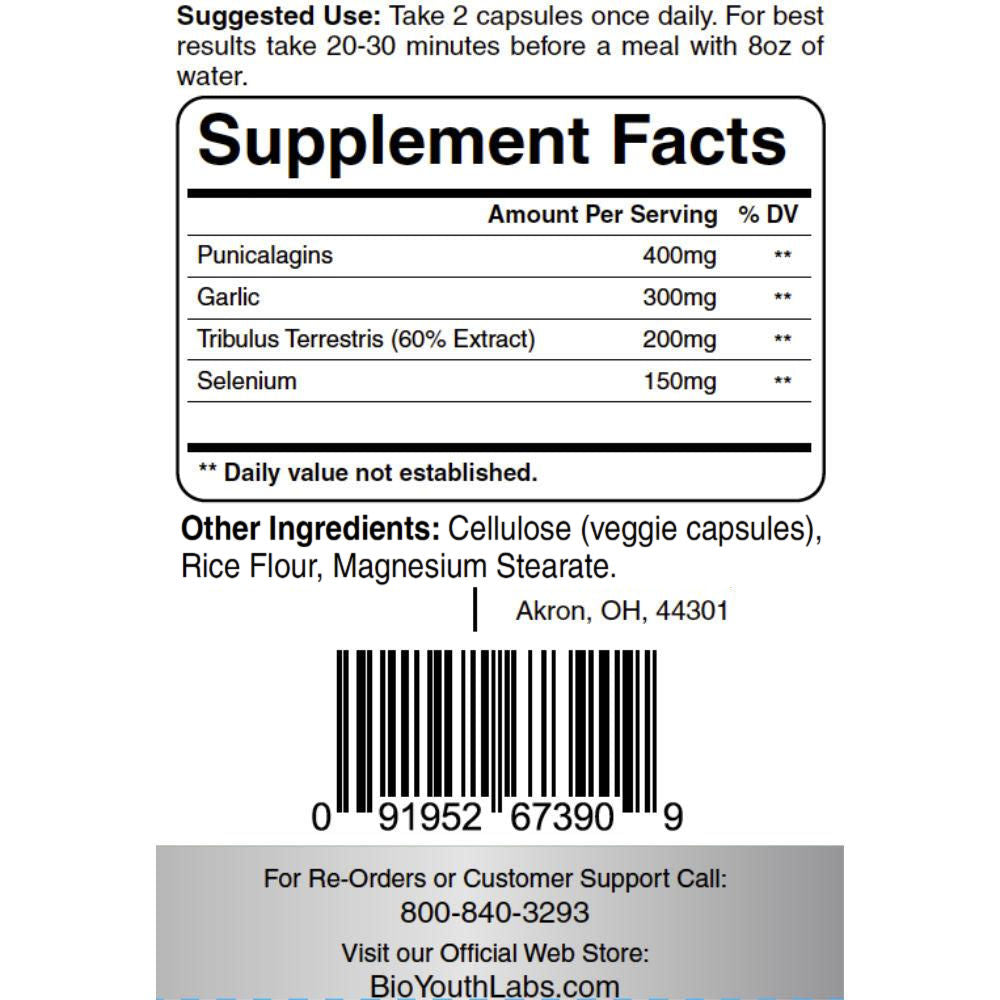 Great supplement helped me a lot!
I'm using this supplement for a year now. But I saw the effect on my prostate after 30 days of use. It was easier for me to pee and according to my doctor my prostate has shrink to the normal size which is quite amazing. I shared this supplement with all of my friends .
Received the WRONG ITEM
Ordered the Pro-state but received the Blood Pressure Support. So, FIX IT !!!
I bought this for my dad because he gets up multiple times at night to go to the bathroom. He's been using this for a couple of weeks and this really seems to be helping. He asked me to get him more! Works great!
Yes this product seems to be working!!
This is the first Prostate Support product I tried. I have been taking a couple of prescription products for years with minimal pain and urgency to pee relief. I started to take Prostate Balance from BioYouth Labs and stopped using the prescribed medications. I found that the natural ingredients in this product worked even better than the prescription. No pain or urgency issues and sleeping longer between pit stops.
first-rate
These pills really do work and they are totally worth the money!
I bought this Prostate Balance and sent it to my father in Brazil, and he was very satisfied with no side effects. It is an excellent product. Am happy with its results because my father said that he is getting better sleep.
My doctor approved me to take this Prostate Supplement. And I am very thankful that I haven't experienced any side effects or adverse reactions with this medication.
My husband has been taking this. We have been desperate to try something to help him take lass trips to the rest room at night. Before the supplement he got up at least three times. But upon using this Prostate Balance, now he gets up once. I also love that it is natural and safe.
I would give this product an overall rating of 101/100. This is certainly the best!
Best on the market
The title says it all. I love it. It is by far the #1 best prostate supplement.