As seen on:
JointVigor™ Natural Joint Supplement
Choose your package:
Natural Joint Supplement
Supports:
✔️ Improve Mobility*
✔️ Strengthen and Nurse Joints*
✔️ Better Comfort In Movement* 
✔️ More Flexibility*
✔️ Deep Lubrication For the Joints*


 All of BioYouth Labs formulas come with a 60-day, full money-back guarantee. This means you can give this formula a test drive, completely risk-free. If for whatever reason, you're not 100% happy with your results, just send the bottle back within the first 60 days from purchase, and you'll receive a 100% refund, no questions asked.
Contains curcumin which fights free radicals in the body and helps to relieve pain and stiffness in joints.


Also contains turmerones known to have "neuroprotective properties". This means they protect neurons in your brain and nerves throughout your body, easing pain and discomfort.


Hemp extract in JointVigor activates "endocannabinoid" receptors for occasional pain relief while giving you a feeling of deep relaxation and comfort.
 
Curcuminoids are the active constituents in JointVigor's curcumin that are highly potent providing joint comfort and enhancing joint performance. 


Bioperine works synergistically with the other ingredients in JointVigor to increase nutrient absorption through thermogenesis.*
Frequently asked questions:
Q1. How many JointVigor capsules should I take? When should I take them? 
We recommend you take at least two capsules every day. Maintaining the dosage will help you improve and retain your joint flexibility, comfort, and bone density. You may increase the dosage to 3 capsules per day to observe optimal results. Take these capsules with 8 ounces of water and at least 20 to 30 minutes before your meals. Having these capsules a few minutes before your meals allow maximum absorption of the capsules and nutrients. 
Q2. Can I take JointVigor with my prescription medications?
Typically, it is recommended to maintain a gap of at least 1 hour between taking your prescription medicines and supplements. This reduces the chances of any possible interaction that might occur between the ingredients of your medications and supplements. Also, it ensures the optimal absorption of your medication and supplements. 
Note that JointVigor Natural Supplements contain hemp extracts. The ingredient works to instill a feeling of deep relaxation and comfort. Clinically, hemp shows no side effects; however, some effects may be observed in some cases.

If you observe any changes in your appetite, mood, dizziness, diarrhea, or drowsiness, we recommend that you reduce the dosage. However, if the symptoms prevail even after reduced dosage, consult your physician. Depending on the severity of your symptoms, your doctor will give you recommendations about continuing with supplement therapy. 
Q3. How long does it take for the JointVigor to take effect?
The results of the taking JointVigor can be observed as increased bone mobility and better flexibility. The results may also be observed as an improvement in your bone density.  According to the National Osteoporosis Foundation, you can observe significant changes in your bone density after 1 to 2 years of supplement therapy. 
Q3. Does JointVigor help with bone pain and joint comfort?
The formula is designed to target joint comfort and flexibility and to support healthy bone density. Regular and adequate consumption of these supplements will protect your bones and keep them healthy. Curcuminoids in curcumin eliminate the free radicals that rob you of joint comfort. Also, the turmerones work to protect neurons and strengthen the nerves throughout your body. The formula features hemp extracts that activate the endocannabinoid receptors for introducing a feeling of comfort and relaxation.
Q4. Are there any possible side effects of JointVigor?
There aren't any clinically proven side effects of these supplements. However, it is highly likely that some individuals may exhibit sensitivity to one or more ingredients. If you notice any unusual symptoms after consuming these capsules, we recommend that you reduce the dosage. In case, if the reduced dosage doesn't help with the symptoms, then consult your doctor regarding continuing with these supplements.*
📞 Consult & Order By Phone 
+1 (888) 682-0735 - our team will love to help!
Available Mon-Fri 9am-6pm EST
Share
View full details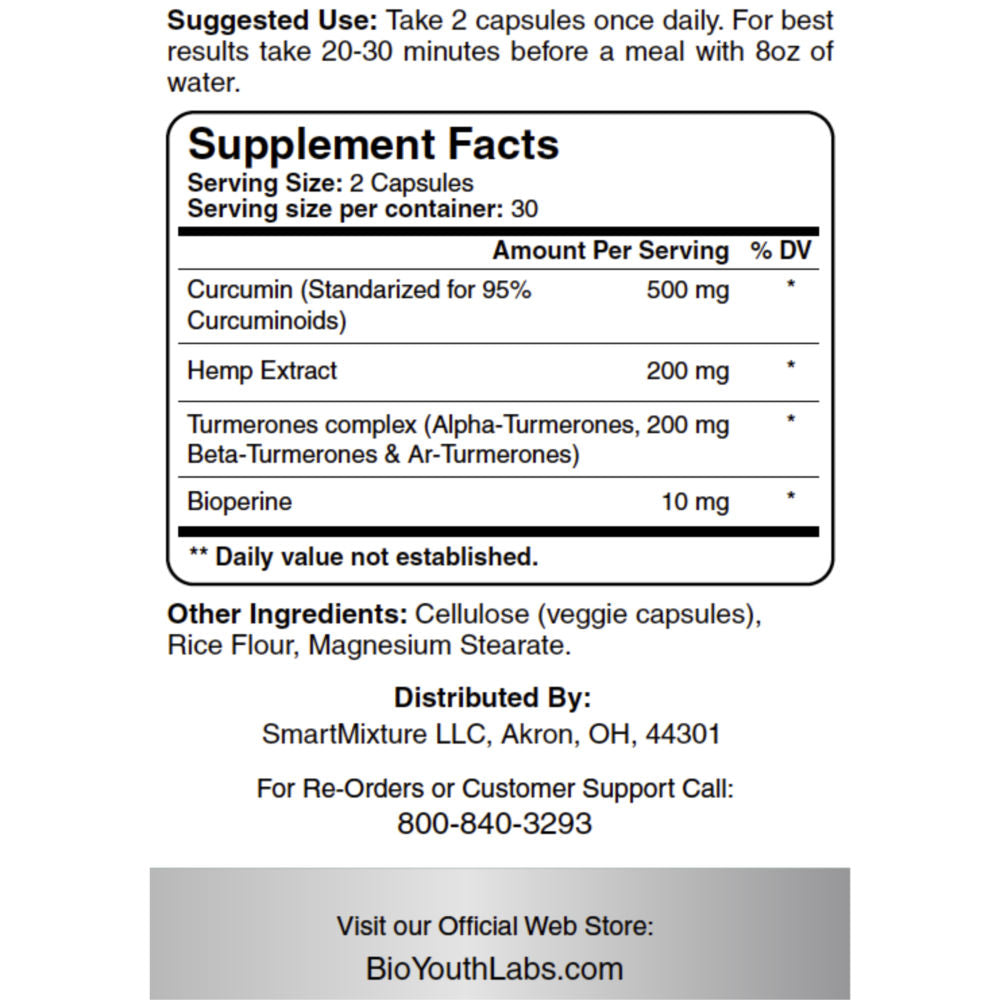 The Miracle product
I have been use this product for about 2 months now this product is Amazing now I can get up of bed with no pain love it I want my husband to try it.
Great product
This product is great snd the price is even better. I have been enjoying them and will continue to buy for my health by the grace of God. I am grateful to God that I stumbled on this site.
Does the trick
It is really not just some kind of product that will not work. It does its way without any bad effects.
The best among all other brands. Gonna repurchase.
Less rickety!
This joint supplement lessened the pain after a couple of weeks and has overall made it easier to function. I will be buying more soon so I never run out.
I just bought my second bottle!
I just happened to find this supplement and decided to try them. I'm a 57 years old male trying to stay in shape so I have an exercise program to follow. I've had problems in the past with swollen knees after following these programs. These pills do its job for me. I felt immediate pain relief with the first pills I took. My knees felt better and the swelling subsided.
I have been taking this product for a few weeks and am almost to the bottom of my 1st bottle. I am thrilled that I have found this to help with my back and neck pain. It will definitely help you too!
I saw a noticeably reduction in my chronic elbow and shoulder pain within 2 weeks of taking Joint Support. I work out 4-5 times a day and I take this supplement daily making for a pain free physical fitness routine.
Outstanding!
This is the best joint supplement I've ever taken! After dealing with multiple elbow surgeries, I've tried many supplements and by far this is the best one.
I have been buying of this brand to get the same dosage from more expensive brands. I've noticed that the cracking noises in my back when I do yoga has gone. I take this every single day and it keeps my lower back feeling great. So happy with this product!